1.
June 1st was Audrey's last day of pre-K. On to Kindergarten in the fall! She had strong feelings and tears about how much she'll miss her teachers and pre-K- poor girl is destined to take after me in the emotions department but at least she had a great year and enjoyed her teachers! She was given "Most Dependable" on the last day; she definitely is our dependable girl at home!
2.
I'm on the waiting list at the library for the new
Little Women
mini-series. Have you seen it? I really liked the 1994 version and the 1949 version as well (except.
June Allyson's bangs
. Why so unflatteringly short? Also,
Judy Garland's
in
Meet Me in St. Louis
. Y?), and am hoping the mini-series will be promising!
3.
A couple of months ago Evie read two different abridged versions (you know, the kind with lots of pictures and bigger type) of Little Women and contentedly informed me that Beth got sick but then she got better and it was a good story. And apparently that's how abridged versions deal with the sad parts.
I think we'll wait several years before introducing the movies or full version!
4.
I recently finished
Shoe Dog
, a memoir by the creator of Nike. I enjoyed it- it was an interesting if long read but a line on the second to last page gave me a jolt:
Say what? There was nothing remotely religious in the whole book, not that there needed to be or that I was expecting it, but I kinda couldn't believe that little part slipped in there at the end. I hope the best for him and his wife!
5.
Lately I've been having lots of thoughts about style and my wardrobe, so I've decided to start a separate blog- because, why not? :) There was just a fair amount I wanted to "jot" down about that sort of thing and felt it was easier to have a dedicated space for it. So if you're interested you can visit
Hashing Out My Mom Style
.
6.
I was listening to
this podcast
of Jennifer Fulwiler's show and in it she mentioned
a story
wherein Anthony Bourdain not only stood up for a food writer (he didn't know), whose positive review of a new Olive Garden in her area went viral (in a negative way), but also wrote a forward for her book that was being published. As soon as I heard that story St Mother Teresa's quote, "If we have no peace, it is because we have forgotten that we belong to each other." started blaring in my head. He did not know that lady from Adam, yet he took it upon himself to stand up for her- such an embodiment of MT's quote! May he rest in peace.
7.
The other evening we left our garage open and our neighbor's dog (one of a few that roam freely around our neighborhood) got into our trash, ripping apart two bags and strewing the garbage all around. This is the second time it has happened!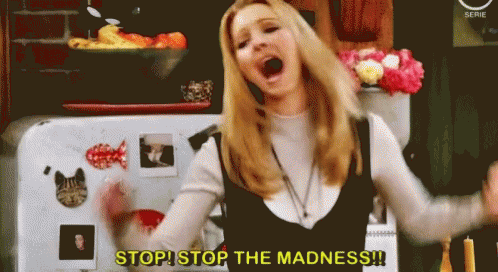 via
I will simply say that were I to run for Miss America in another life my platform would be for people to contain their dogs in their own yards.
THE END.
Have a good weekend!